System Requirements
PC with Windows 7 or later installed
Internet Explorer 9 or later installed
---
Hardware Drivers
The RFID Card Reader / Writer supplied by Reactec is either an Omnikey 5021 CL or and Omnikey 5022, depending on the Operating System installed on your PC, you may have to install drivers for device to work properly. These can be downloaded from the links below:
Omnikey 5021CL - Windows 10, Windows 8, Windows 7
Omnikey 5022 - Windows 10, Windows 8, Windows 7
Don't know if you need a 32-Bit or 64-Bit driver? Check Operating System Version
---
Software Download
If you have a previous version installed, remove it before installing the latest version
Click the download button to start the download process
Depending on your coporate security policy, during installation you may be prompted by Microsoft Defender SmartScreen to confirm that you wish to install the application.
If this happens, click the "More Info" link, verify that the publisher is "Reactec Ltd" and then click the "Run anyway" button as shown below: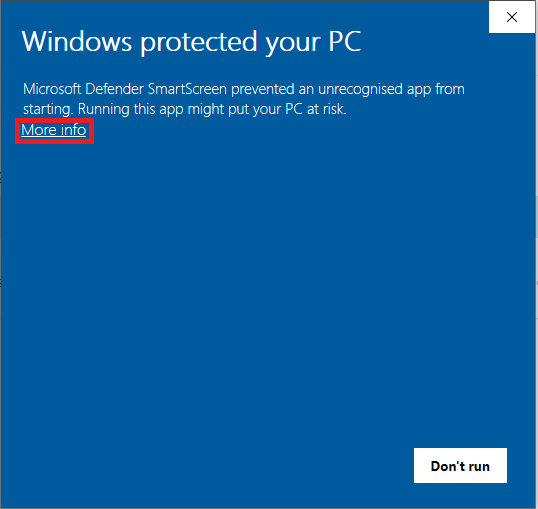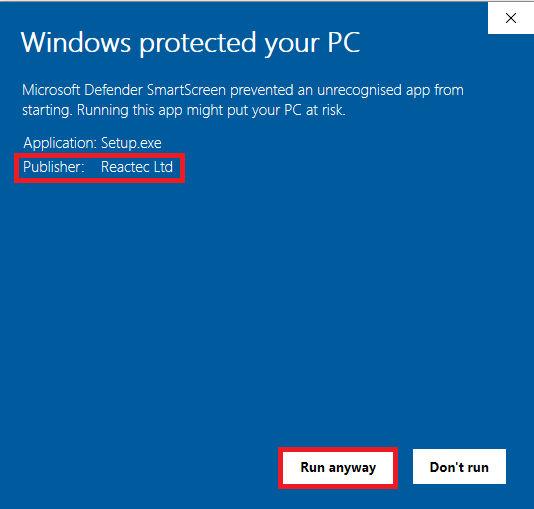 Once the installation has completed the application will automatically run. In addtion a shortcut will be placed in the Start Menu and on your Desktop.
Info
If you have a problem when downloading, please check your firewall and IT security settings.
When the applications are installed, please check that your firewall allows access to https://www.reactecanalyticsplatform.com on port 443.